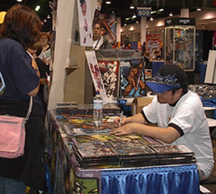 Shop til you drop! Buy your much-needed items from retailers and industry who are the central focus of the hall. You'll find everything in the Pacific Media Expo Exhibit Hall -- from anime/manga to Hong Kong action films, from J-Pop/J-Rock CD's to airsoft equipment and accessories.
Pacific Media Expo hosts a unique blend of vendors and artists representing the best of Asian media and lifestyles. The Exhibit Hall will be your one-stop shop for items you can find around the Pacific Rim.
Exhibit Hall Hours:
| | |
| --- | --- |
| Saturday, October 28 | 10:00 AM to 6:00 PM |
| Sunday, October 29 | 10:00 AM to 4:00 PM |
Scroll down for more information on purchasing space in our Exhibit Hall or Artists Market, or use the quick links below.
Quick links: Exhibitors | Artists Market
If you would like to sell or exhibit at PMX and wish to reserve space in our Exhibit Hall, please contact Exhibit Hall Services via the Contact Webform (click the Contact tab on the main menu). Our Exhibit Hall staff will contact you to discuss your Exhibitor Contract and booth arrangements.
Booth Details

Booth space is 8' x 10'

Includes one 6' x 2.5' table
Includes two chairs
Includes three dealer badges at no charge
No union labor involved (you move and set up your own equipment and inventory)

Booth Prices
| | |
| --- | --- |
| Deadline | Cost |
| Until September 1* | $200/booth |
| Until October 1* | $250/booth |
| Until October 20† & At the door | $300/booth |
* Payment received must be postmarked by this date to qualify for that price.
† This deadline is the last day for mail-in payments to ensure that they will arrive in time.


Booth Premiums (These are additional charges to the standard booth price.)
| | |
| --- | --- |
| Category | Cost |
| Premium Space | $25/booth |
| Corner | $25/booth |
| Dealer Badge‡ | $25/person |
‡ Limit to 2 additional badges per booth purchased.


Please note: Dealers who intend to conduct retail sales must have a valid California Seller's Permit.
For more information, visit the California State Board of Equalization website or contact them at (800) 400-7115. A copy of the Seller's Permit is required. Conversely, if there is no intent to conduct sales, a "Letter of Intent Not To Sell" must be submitted.

For more info, please consult our Exhibitor FAQ first. For further assistance or a copy of the Exhibitor Contract, contact the Exhibit Hall Services via the Contact Webform.




Read more...
The PMX Artists Market is a feast for the eyes, ears and mind -- welcoming artists from all forms of media. Creativity knows no bounds as artists, writers, musicians and anyone who has felt the muses' touch will showcase their works in the Artists Market. Come feed your senses and feel inspired by the range and versatility of art!


Artists Market Location
Lower Level Lobby (next to the escalators and before the entrance/exit of the Exhibit Hall).

Artists Market Rules
(Last Update: September 1, 2006)
Artists Market space is reserved for the two-day duration of Pacific Media Expo 2006.
Artists Market fee is $10 per half table (up to 2 chairs), or $20 per full table (up to 4 chairs). (A half-table is approximately 2.5 feet by 3 feet; a full table is about 2.5 feet by 6 feet. Table dimensions are subject to change due to table availability with the event facility. Please confirm table dimensions with us if this is important to you.) Fee is non-refundable.
Each person operating a table in the Artists Market must also purchase a paid two-day pass for Pacific Media Expo 2006. Your membership number is required upon registering for Artists Market.
Each person is allowed to purchase up to one full table. Groups may receive special consideration, at our discretion and space availability.
You must own, or have permission to use, the rights of any creative work shown or sold. For creative work owned by someone else, including but not restricted to fan art and cover songs, customers should be notified in some way, during or before, the point of sale that such work is not of the selling artists' original creative endeavor.
Items for sale should be the result of the artist's own creative endeavor. This includes originals, copies, reprints, and licensed merchandise. Selling a significant fraction of merchandise not created directly by the registered artist is not allowed.
Artists must provide a valid California Seller's Permit number if there is intent to sell. You may contact the California State Board of Equalization at (800) 400-7115 for additional information. Unauthorized selling of items without this permit will result in the removal of the items and/or the artist from the premises. A copy of the Seller's Permit is required. If you do not intend to sell, a "Letter of Intent Not To Sell" must be submitted to us.
Pacific Media Expo reserves the right to remove any item or artist in violation of these rules.
Pacific Media Expo is not responsible for any lost, stolen or damaged property.
Decisions of the event staff regarding these rules and any policies are final.
Artists Market Registration
Click Here to Register for AM
To reserve a table in our Artists Market, please submit an Artists Market Registration form. The Artists Market manager will contact you to discuss your fees and table arrangements. Please, note that you must purchase a full membership pass prior to registering for Artists Market. Your membership number is required information.


The Gallery of Fantastic Art (GoFA) is proud to present the original artworks of Akemi Takada.
| | |
| --- | --- |
| | Ms. Takada was the character designer of some of the all-time great anime classics, such as Kagaku Ninja-Tai Gatchaman II (1978-79) & F (1979-80), Urusei Yatsura (1981-86), Maison Ikkoku (1986-88) Kimagure Orange Road (1987-88), and Mobile Police Patlabor (1989-93). She was also the original creator of the "Mobile Police Patlabor" manga series featured in the Weekly Shonen Sunday magazine (1988 No.17 to 1994 No.23). Ms. Takada's original artworks will be on display at the GoFA booth in the Exhibit Hall at the PMX 2006 event on October 28th and 29th. Don't miss this opportunity to view and purchase hers and many other works only available at Pacific Media Expo. |
Location: Pacific Ballroom B.

Got game? Playstation PSP, Nintendo DS and GameBoy owners can rejoice as they battle head-to-head in our Gamers Lounge. Or play your favorite coin-operated games, such as Dance Dance Revolution Extreme, BeatMania, DrumMania, Max Tune, Marvel vs. Capcom 2, and Guilty Gear XX among others. Remember to bring your wallet and your game skillz.

Pacific Media Expo has designated a gathering area for both portable handheld gamers and arcade competitors. Stop by and test your skills against other players, or just show off your moves. Open to the public. (No PMX membership needed for access.)

For a complete list of arcade games, read on.

Read more...