2Ĺ days of FUN!

Pacific Media Expo 2007
Veterans' Day
Holiday Weekend
November 9 to 11, 2007
Hilton Los Angeles Airport


News
June Raffle
Win a softbound Japanese script for the anime Claymore autographed by Takahiro Umehara, and 2 PMX 08 full badges! (June Raffle closed on 06.30.08) (06.20.08)

PMX 2008
PMX will be returning to the LAX Hilton during Veterans Day Weekend, November 7-9, 2008. (06.08.08)

May Raffle
Win an autographed DVD of Flash Point and Goodies from The Forbidden Kingdom! (May Raffle closed on 05.31.08) (05.16.08)

April Raffle
Win an autographed CD from the band The Slants! (April Raffle closed on 04.30.08) (04.24.08)

March Raffle
Win an Angelic Pretty poster, signed by Maki and Asuka! (March Raffle closed on 03.31.08) (03.24.08)

February Raffle
Win a DVD Box Set of the K-Drama series My Lovely Sam Soon, and 2 free memberships to PMX 2008! (February Raffle closed on 02.29.08) (02.21.08)

January Raffle
Win an autographed Thee Out Mods demo CD, and 4 free memberships to PMX 2008! (January Raffle closed on 01.25.08) (01.16.08)

Photo Album / '08 Pre-Reg
Myspace photo album has been posted! For returning members, we are offering November 11, 2007 ONLY a $20 special price on pre-registration for PMX 2008. (11.11.07)

Ragnaholics Unite!
The Ragnaholics forum is hosting a Ragnarok Online panel with special guests from the game. Saturday, Nov. 10 from 1 to 3 p.m. in the Pasadena Hollywood Gardens. Q&A, games, prizes and fun!. (11.08.07)

Anime Schedule Added
The detailed schedule grids have been updated. (11.07.07)

Anime consumes another
Kenjiro Tsuda will be unable to attend PMX due to scheduling conflicts with a new anime project. (11.06.07)

James Kyson Lee
James plays Ando on Heroes and will be appearing at PMX this year! (11.06.07)

K-Drama Track Expanded
The detailed schedule grids have been updated. (11.05.07)

PMX Facebook Event
Facebook users, please join our facebook event and invite your friends! (11.05.07)

Collin Chou
This martial arts movie veteran will discuss his career and talk about his latest project. (11.05.07)

A day with Spike Spencer
Voice Actor Spike Spencer educates and entertains all comers at his three panels on Sunday. (11.05.07)

Asian Food Challenge
Only the strongest stomach shall prevail! Rules, prizes, and sign-up information are here. (11.05.07)

OLIVIA auction is over!
The PMX06 guitar autographed by OLIVIA has been SOLD for 101,100 Yen! (11.05.07)

Programming Schedule
It's here! The grid schedules for programming are up on the Programming Page. (11.05.07)

Convention Hours
An overview of PMX convention hours has been posted to the home page. (11.04.07)

Live programming
Descriptions of the Panels and Workshops at PMX has been posted. (11.01.07)

Movies and drama
PMX announces the Asian Cinema and Korean Drama that will be shown during the convention. (11.01.07)

OLIVIA auction is live!
PMX is auctioning off a Roswell Rhoads Jackson custom electric guitar autographed by OLIVIA. (10.26.07)

Brunch tickets are OPEN!
Enjoy an elegant tea party while you watch a runway fashion show of Angelic Pretty's new Sweet Lolita fall collection. Details here. (10.26.07)

Concert ticketing
The policy for concert tickets have been posted in the Music tab. Performance dates have also been posted. (10.25.07)

Gothic lead
Cure Magazine and Anime Jungle are bringing MYM, lead vocalist of the Japanese Gothic rock band GaGaalinG for an autograph signing in the Exhibit Hall. (10.25.07)

CosFest signups
Registration for the PMX CosFest is now open. (10.23.07)

Pumping the phones
PMX adds Head Phones President to its music lineup. (10.22.07)

Artists signups
The Exhibits tab has been updated with information on how to sign up for Artists Market tables and Exhibit Hall booths. (10.22.07)

Scouting the area
The Location tab has been updated with information about nearby eateries and parking options. (10.22.07)

All dressed up...
The dress code for the Angelic Pretty Fashion Brunch have been posted. (10.19.07)

New tunes
Check out samples of music from The Candy Spooky Theater in the music player above. (10.16.07)

Bringing more music
PMX adds two more bands to its lineup: The Candy Spooky Theater and D&L. (10.15.07)

More hip-hop
Hip-hop crews Kaba Modern and Get Down Dolls will be participating in PMX's .pure furisuta event. (10.15.07)

Three more guests
PMX announces a trio of anime guests of honor: Voice actress Yukana, Director Hiroyuki Tanaka, and Character designer and animator Takahiro Umehara. (10.14.07)

Angelic Pretty designers
Information about Angelic Pretty designers Asuka and Maki have been added. (10.05.07)

Twisted Tea Party 2007
Information and rules for the Twisted Tea Party has been posted. (10.05.07)

The Slants to perform
Enjoy the dance/rock blend of The Slants. Clear your cache and check out their music samples on the streaming audio player above. (10.04.07)

OLIVIA guitar auction
The auctioning of the custom OLIVIA guitar will start Oct. 28. Stay tuned for more information. (10.03.07)

Fly to PMX
Take American Airlines to LAX and receive a 5% discount on your ticket. See our Location page for more information. (10.03.07)

Press, industry & panel registration available
Please see here for press and here for industry and panel reg. (09.27.07)

hip-hop dance exhibition
.pure furisuta is an evening of dance performances and an afternoon of workshops, featuring crews from Southern California. Special guest performance from one of So.Cali's #1 b-boy/hip-hop crews, Sickstep. (09.25.07)

Loli news
PMX announces the attendance of Angelic Pretty. Designers Maki and Asuka will be participating in a variety of events, including a brunch and boutique. (09.24.07)

Time extended!
We're extending the first registration deadline due to an imminent announcement. Take advantage of the pre-reg discount. Click to register for PMX. (09.20.07)

Thee Out Mods to perform
Local j-rockers Thee Out Mods join the PMX lineup and will be playing with LiN CLOVER. (09.18.07)

LiN CLOVER to perform
Japanese band LiN CLOVER will be attending PMX as performing guests of honor. Check out their music samples on the streaming audio player above. (09.15.07)

Volunteer for PMX
Spend a few hours each day helping out PMX and earn yourself free admission and maybe more. Click for more details. (09.13.07)

Weapons policy posted
The cosplay weapons policy is now online. (09.10.07)

Online registration is open
Register for PMX now! (09.06.07)

OLIVIA guitar auction
PMX and AVEX have joined to offer up a custom guitar signed by OLIVIA and her band. Win the guitar featured in OLIVIA's "Into the Stars" PV. Auction proceeds benefit aspiring Asian and Asian-American artists. (07.07.07)

Attention all students
PMX introduces a program that allows free admission for select officers of high school and college clubs. For more information, see our Community page. (07.26.06)

Location, location, location
The Hilton hotel is now taking reservations for PMX. Reserve now and secure the special PMX convention rate. See PMX's Location page for more details, or go straight to the Hilton's page specifically for PMX. (07.06.21)

Home
Programming
Panels and Workshops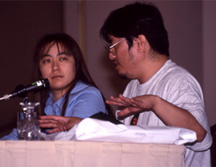 PMX will have a full array of panels featuring guest speakers, industry insiders, and fan evangelists. Come hear our guests and industry leaders talk about their past efforts and new projects. Find out when your favorite titles will be coming to market and learn the inside story on how the industry works. Expect to see fan panels covering topics as diverse as Asian street fashion, running a fan website, animation cel collecting, costuming and much more.

See a list of Panels and Workshops for PMX07.
Please check room locations for times.

What Happens at the Con, Stays at the Con...?
Veteran Voice Actor Spike Spencer shares with you his raucous take on what happens behind the scenes in the industry and at the conventions. From after parties to kidnappings and porn stars to bottled up human gases; Spike will keep you laughing while he reads from his book full of hilarious versions of what really happens at the Con.

How to be a Frickin Genius Voice Actor, Step One.
Veteran Voice Actor Spike Spencer will share his knowledge with you and you will get a chance to practice your own voice skills in this workshop. Spike will help you understand how your voice is an instrument, and how to fine tune it so that you too can become a Frickin Genius voice actor.

Dating Cookbook
Veteran Voice Actor Spike Spencer shares some of his recipes, recommendations and tips from his upcoming dating cookbook. And Spike discusses techniques from his intensive study of the world of dating and self improvement in this oh so misunderstood area. 18 and up only please.

Have Paper, Will Travel
http://havepaperwilltravel.blogspot.com/
Origami artist Michael Sanders will demonstrate his talents in this panel. He will show the evolution of paper folding from traditional models and kids crafts to modern day art.

Aimee Major Steinberger's "Japan Ai"
www.gocomi.com
Join cosplayer and animator Aimee Major Steinberger (The Simpsons, Futurama) on a fan girl's dream trip through the worlds of cosplay, manga, anime, and doll collecting in Japan. Aimee's hilarious and touching adventures will be accompanied by a generous helping of artwork from her upcoming book Japan Ai: A Tall Girl's Adventures in Japan, to be published this winter by Go! Comi.

Cosplay Construction Course
Corsets? Crinolines? Crossplay? Or perhaps Wigs, Weapons, or Wings? Bring your questions and learn new techniques!

Jrock Revolution
http://www.jrockrevolution.com
Jrock Revolution - about the music organization, past, present, and future, as well as the overseas jrock community as a whole. Will feature contest/raffle during the panel.

Gothic Lolita Fashion Showcase
A non-formal venue for people to display their Gothic Lolita wardrobe, so that others can view, ask questions and inquire about brand and none brand Gothic Lolita clothing.

Producing ADR vs. Original Animation
http://www.shannon-muir.com
SHANNON MUIR, author of Gardnerís Guide to Animation Writing and Production from GGC Inc., will compare the original and ADR animation production processes. Her animation credits include being only one of two Western writers for the Japanese animated series Midnight Horror School; Production Coordinator for Say it with Noddy, Invader Zim, and Extreme Ghostbusters; and Production Assistant for Jumanji: the Animated Series.

Digital Artwork Workshop
http://www.carpediemstore.com
This workshop will cover the basics in digital artwork using a Wacom pen-tablet and demonstrate the usage of Manga Studio and Painter X. We will also be offering special promotional prices on all equipment and software we will be demonstrating!!

Supernatural Japan: Ghosts, Monsters, and Mythological Creatures
http://www.katavila.com
Got ghosts? This is an introduction to Japanese ghosts, bakemono (monsters), and mythological creatures (kappa, tengu, etc.). Participants will also be encouraged to share their own ghostly encounters.

Romance and Yaoi Manga-Style Comics
http://www.katavila.com
This panel is about the creativity, humor, and sexiness (as opposed to sex) of romance and yaoi Web comics. It will touch upon 1) what are women looking for in comics, 2) current romance and yaoi print manga (e.g., Red River, Love Mode, etc.), 3) their U.S. manga-style counterparts in Web comics, and 4) how to post your own romance or yaoi Web comic online.

Pop Japan Travel
http://www.popjapantravel.com
Digital Manga's Pop Japan Travel presents its 2008 tour schedule, including a trip to Tokyo and the Sapporo Snow Festival in February, plus tours in April for Yaoi and Gothic Lolita fans. Come to the panel and win bizarre and valuable prizes straight from the Land of the Rising Sun, and hear about our Transformers MP3 player giveaway.